Current Version: 3.2.0
Release Notes: Release Date: Apr-25-2023
Unveiling Files 2.0, Contracts and Proposals!
Contracts
SaladBowl offers a comprehensive solution for managing company contacts and their relationships to the company. With our platform, you can easily organize and track all of your company's contacts in one centralized location, complete with detailed information about their role, department, and history of interactions with your company.
Contract editor allows users to simply enter in information and quickly generate a contract.
Proposals
SaladBowl's proposal management feature allows you to easily create and send professional proposals to your clients. You can customize templates, add branding, and include interactive elements such as videos and images.
The Contracts and Proposals are available today for users on the Entree Salad.
Portal Reengineered
The integration of Portal has led to a revamp of the Contacts section. With just one click, your contacts can access their invoices, view ongoing projects, and submit tickets from their personalized dashboard. If a contact has multiple businesses, they can conveniently access details for all of them on a single screen.
Files 2.0!
Easily send files for client approval and discuss all on one screen!
SaladBowl's Files feature has been expanded with a new approval system to help streamline the process of getting feedback and sign-off on important documents. With this feature is enabled, users can send files via a link to their clients for their review. Clients can easily leave comments and feedback by feed or by clicking on the reviewed image for pinpoint precision, ensuring that the final product meets their expectations. This new feature also allows users to track the progress of approvals, making it easy to manage multiple requirements for a project ensure that their clients are always satisfied with the final product.

Favorites
Your favorites are now visible in the navigation (when expanded) for quick and easy accessibility.
View Controls
Users can now enable or disable display views from Apps. Toggle on Boards (Kanban), grid views or tables to fit the best needs of you and your users.
Minor bugs and fixes
Fixed some bugs and made some other minor improvements to the platform. This has been done to ensure that users have a seamless experience while using the platform.
---
Version: 3.1.5
Release Notes:


New dashboard builder
We have introduced a brand new dashboard builder that allows you to create your own unique dashboard layout. This is a major improvement over the previous dashboard, which was more static and less customizable. On any paid plan, you will now see an option to go to the builder where you can start customizing your very own screen.
Drag a card from the list onto your layout and scale to your liking.


Personalize your way
Drag and drop cards to personalize your own unique dashboard: With the new dashboard builder, users can drag and drop cards to create a personalized dashboard that suits their needs. This makes it easier for users to access the information they need, and ensures that they are able to work more efficiently. Scale cards to fit your layout. If you think it looks like a mess, click the Clean Up button and we'll automatically re-sort the cards to best determined organization. Select from over 20 pre-built cards to build you own dashboard.
Click "Clean Up" to reorganize all the cards
With the new dashboard builder and improved customization options, users will be able to work more efficiently and effectively. Additionally, the fixes to minor bugs and other improvements will ensure that SaladBowl continues to be a reliable and user-friendly platform.
Drag any card to the bottom right to remove it and add back to the list.
The new dashboard builder is available today for users on the
Side Salad
plan and up.
Minor bugs and fixes
SaladBowl has fixed some minor bugs and made some other improvements to the platform. This has been done to ensure that users have a seamless experience while using the platform.
---
Version: 3.1
Release Notes:
Overhaul Galore!
SaladBowl, the popular SAAS platform for managing projects, has recently undergone some major updates. These changes have been made to improve the user experience and make the platform more accessible and efficient. Here are some of the major features that have been added to SaladBowl:
New way to log in!
SaladBowl has completely overhauled the user access and login process. This has been done to make it more streamlined and user-friendly. Users can now access the platform more quickly and easily, without any unnecessary complications.
The SaladBowl platform can now be accessed directly from app.saladbowl.io. This makes it easier for users to find and access the platform, without having to navigate through multiple pages.
Updates to Tasks, Invoices and Tickets
Tasks, Invoices and Tickets can now be accessed from anywhere in the app, without being redirected. This makes it easier for users to manage their projects and tasks more efficiently.
Portal disabled
The Portal app has been temporarily disabled with the new login system. This has been done to improve security and prevent unauthorized access to the platform.
Refactored Contacts
Contacts have been refactored to make them more intuitive and user-friendly. This makes it easier for users to manage their contacts and keep track of their projects. In the next version, Contacts will be able to login via the Portal (if enabled).
Improvements made to Clients and Projects
Clients and Projects have also been improved, with new features added to make them more efficient and effective. These updates have been made to help users manage their projects more effectively, and ensure that they are able to deliver high-quality work to their clients.
Overall, these updates to SaladBowl are designed to make the platform more user-friendly and efficient. With these changes, SaladBowl users can expect to have a more streamlined and effective experience when managing their projects and tasks.
---
Version: 3.0.4
Release Notes:
Minor bugs and fixes.
Added functionality for applying tax rates to invoices.

Invoice items can now have the sales tax percentage applied when added to an invoice via a new toggle switch "Taxable?" This field is enabled when a rate is applied in Settings > Invoicing. A new switch also appears here to set the default the tax rate to applied.
Resolved a bug on onboarding that would prevent a user to continue on mobile devices.
---
Version: 3.0.3
Release Notes:
Minor bug fixes.
Fixed an error when adding Clients that prohibited editing.
---
Version: 3.02
Release Notes:
Comments 2.0!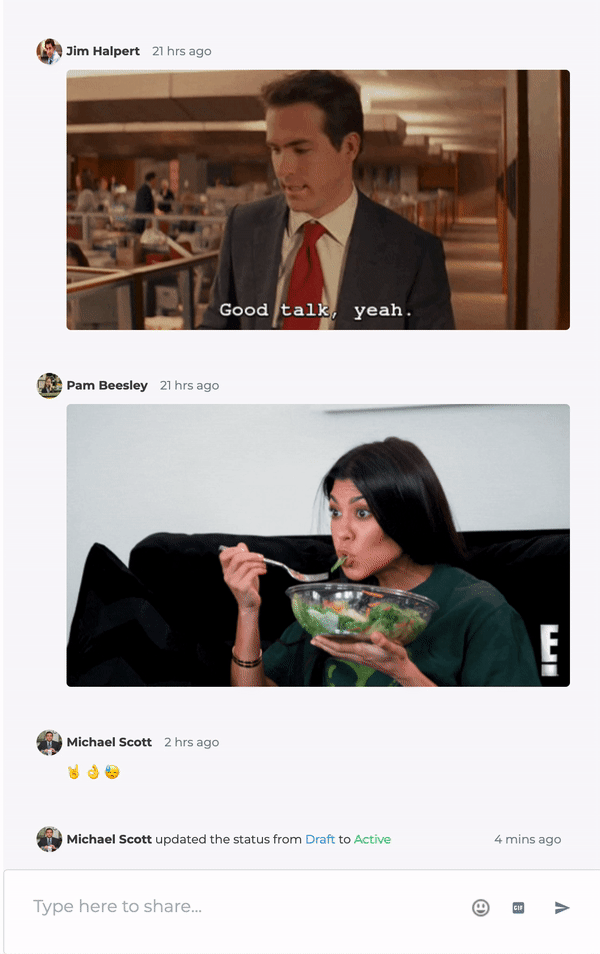 Activity feed has been updated to now include:
Redesign feed
removal of comments - delete any comments or status updates you deem necessary. Comment deletion is time to Delete Items role permission.
Emojis! - leave your reaction to a comment or update with emojis.
GIFs! - respond with a gif with GIPHY integration, search and embed your favorite response with animated gifs.
Comments 2.0 is available now with any paid plan options.
---
Version: 3.0.1
Release Notes:
Minor bugs and fixes.
---
Version: 3.0.0
Release Notes:
Version 3!
This newest release of SaladBowl includes:
re-architectured app for better performance
tons of new features
New Apps:
Custom Fields
Custom Form Builder
Likes
Favorites
Workflows
With the launch of Version 3, we've also restructured the pricing plans, making a lot of previously released features now available at a lower tier. For more information, please visit saladbowl.io/pricing
---
Version: 2.0.3
Release Notes:
Resolved a bug with logging in that would prevent users from signing in with an email or username. SSO was unaffected.
---
Version: 2.0.2
Release Notes:
Minor bug fixes and performance improvements.
---
Version: 2.0.1
Release Notes:
***Major Update!***
SaladBowl has been completely overhauled from the ground up with tons of new features and improvements throughout the system.
New features includes:
Improved User Customization
Improved Dark mode theming and contrast
Set the theme color to what you feel like for the day. Available under Settings > Info, select from a number of predefined themes.
New Layout or Tasks, Invoices and Tickets!
Enjoy the new design for detail view with new features.
Track changes of a Task or invoice over time with new reports of status updates, completions and more!
More Control on Your Habits
Control your narrative on how you like to view your data. New options include Tables, Boards, Cards and Lists
New view for Projects and Tasks in a Gannt chart timeline view.
App Control

Set control to what you want to work with. Don't need use invoices or tasks? Disable them from the Apps screen in settings.
Set level access permissions for your users to which apps they can access.
Multi-Factor Authentication (MFA)
Increase the security of your team by enabling MFA with temporary one-time passcodes via text message or the Authy authenticator app.
To enable MFA for your team, go to Settings > Security. From there, enable MFA via Optional or Required. Optional will allow users to skip the verification process.
For individual users to control their MFA settings, under Settings > Info, users can set whether they want to verify via Text (SMS) or through the Authy app.
Single Sign-On (SSO)
Included SSO with Team plans and up. Gain access to login via Google or Microsoft (Business), with more to come in the near future!
Enabling this feature will give users an additional login screen to choose which SSO they should log in. After they select their SSO provider, they will be redirected to said provider.